Sugar Sammy Bio
---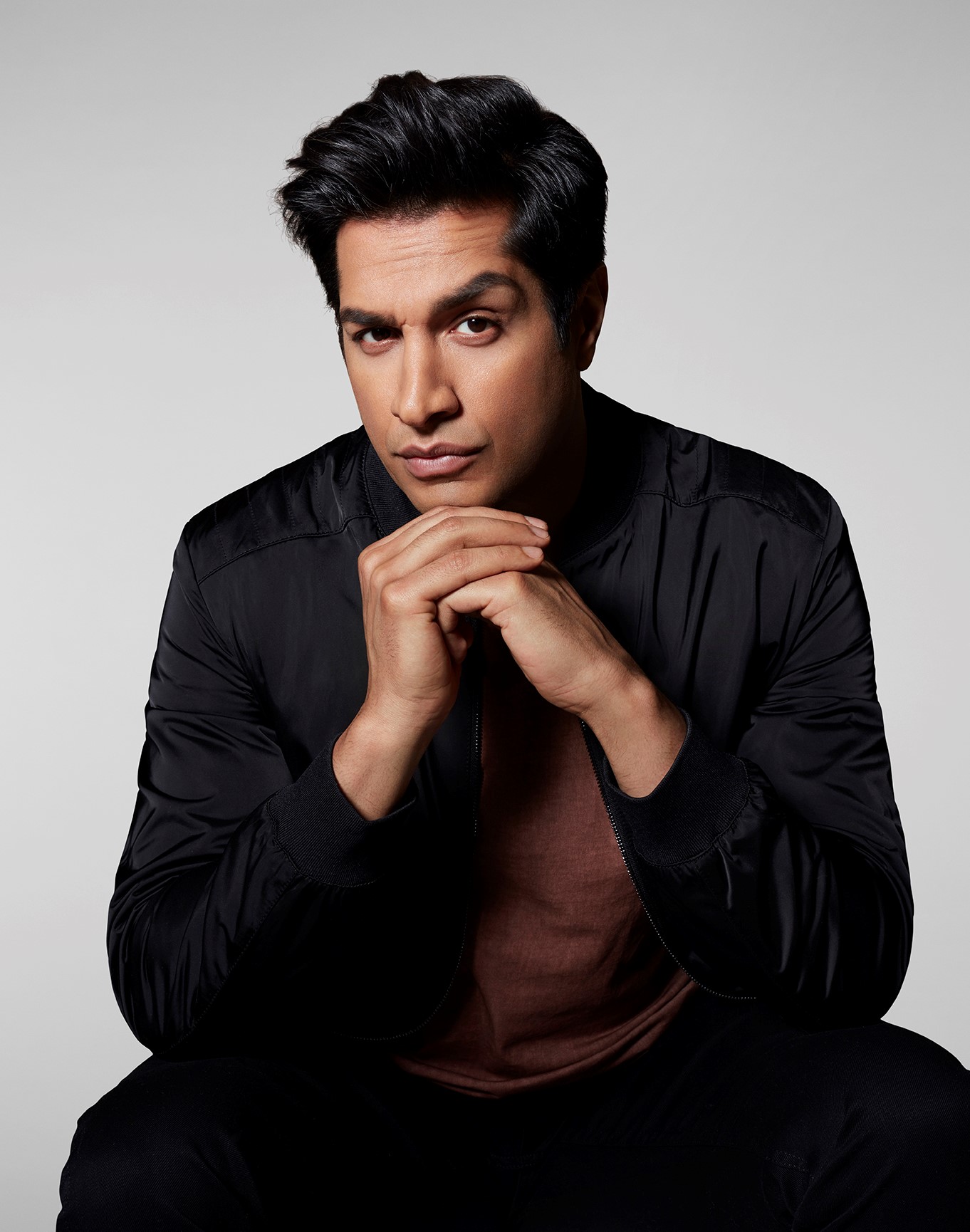 One of the hottest comedians on the international circuit, Sugar Sammy has performed over 1,600 shows in 31 countries, in English, French, Hindi, and Punjabi.

In the fall of 2016, he made his debut in France, presenting 42 sold-out preview performances at Paris' mythic Point-Virgule theatre. After a two-month preview tour around France, he officially launched his new show, written specifically for French audiences, in March 2017 at Paris' Théâtre l'Européen. Critics and the public alike are unanimous in their praise of the show. Sugar Sammy's love story in France continues at the Alhambra Theatre, selling out the 600-seater after initially conquering a 350-seat theatre. The "new king of comedy", as crowned by the prestigious Quotidien tv show, has presented over 134 performances in France so far and was named the "Best of 2017" by Paris Match magazine, who referred to his show as "grand art". 2018 brings the comedian a new tour across France, a visit to Belgium and Switzerland and a triumphant return to Paris as he continues his residency at the Alhambra until the end of December.

In the midst of all the shows in France, Sugar Sammy also visited the US on a 40-show tour in spring/summer 2017, visiting San Jose, Seattle, Atlanta, Houston, Austin, Naples (FL) and New York. Additionally, he hosted two critically acclaimed sold-out Galas at the 35th edition of the Montreal International Just For Laughs Comedy Festival in July 2017, and also hosted the 17th edition of the annual Just For Laughs Canadian Comedy Tour in the fall of 2017, joining comedians Alonzo Bodden and Gina Brillon on a 12-city tour.

Sugar Sammy's last tour took his career to new heights as Billboard magazine declared it the top-selling Canadian tour, across all categories, in 2013, and one of the 30th highest-grossing tours in North America.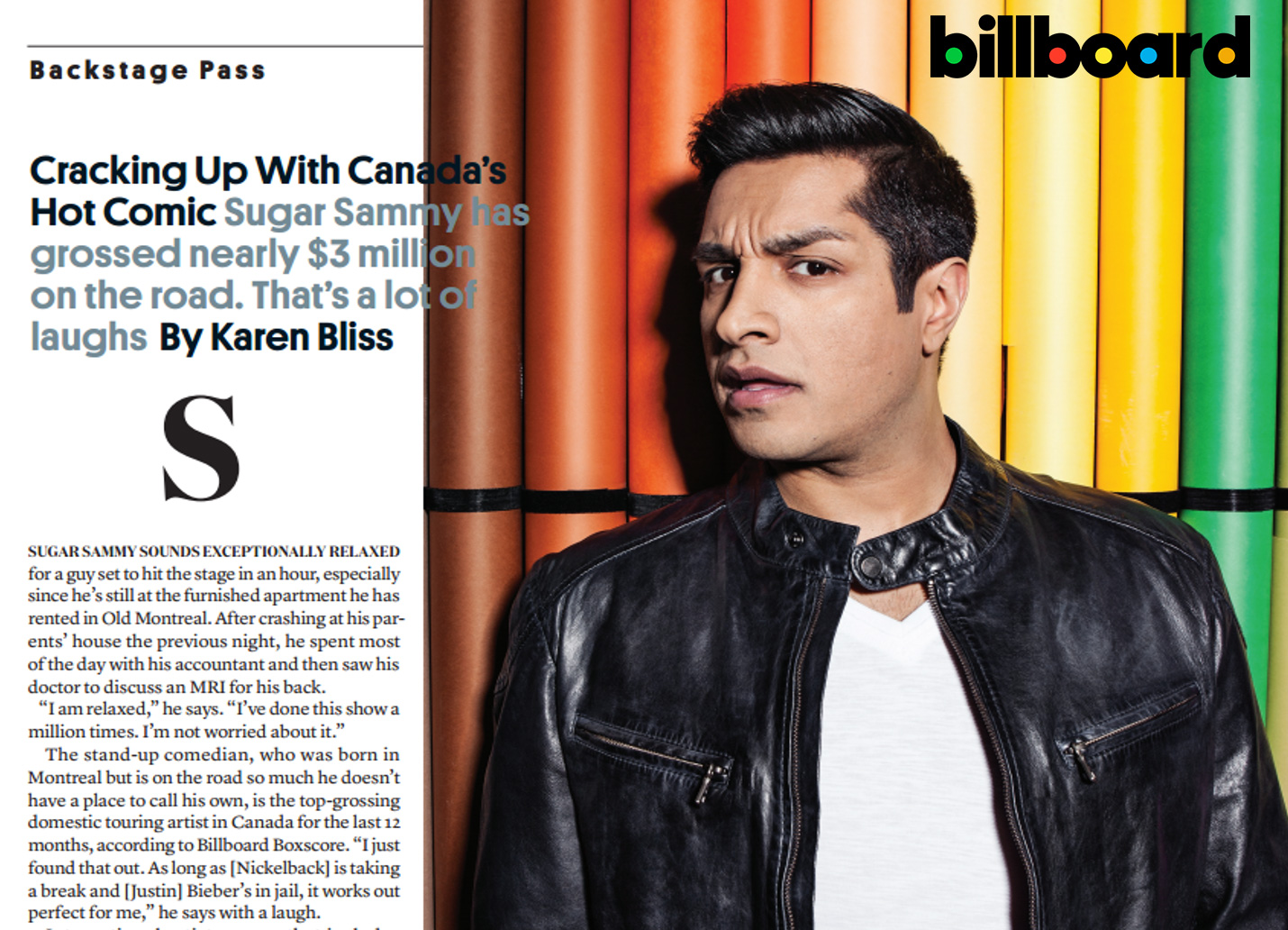 The comedian first made a name for himself in 2011, after touring his English-language shows, Down with the Brown and Sugar Sammy Live in Concert, across several continents, before debuting his bilingual show, You're Gonna Rire, in his home town of Montreal. The unprecedented success of this groundbreaking show made it a cultural phenomenon. A total of 421 sold-out performances, and 372,000 tickets later, Sugar Sammy became the best-selling artist with a debut one-man show in the history of Quebec.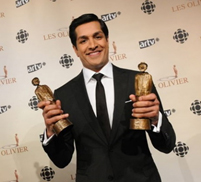 The awards would follow: in May 2013, Sugar Sammy became the first English comedian to post wins at Quebec's prestigious Olivier comedy awards, winning the Olivier for Best Show and Comedian of the Year. In 2014, he once again won the Olivier for Comedian of the Year.

Working in four languages has afforded Sugar Sammy the opportunity to travel the world to perform for his dedicated fans in countries far and wide, including: England, Australia, Germany, Ireland, Holland, Hong Kong, Thailand, the Philippines, China, India, Bahrain, Jordan, Qatar, Egypt, Kuwait, Abu Dhabi, Lebanon, Singapore, Malaysia, Saudi Arabia, Dubai, New Zealand and South Africa, in addition to Canada and the United States.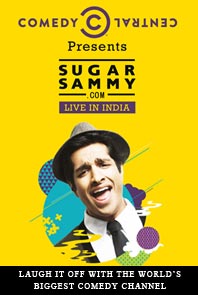 In recognition of his talent and multilingualism, he was the first artist ever chosen by Comedy Central India to tour their country, visiting Mumbai, Bangalore and Delhi in March 2013 with his English/Hindi/Punjabi comedy show.

Part of a new breed of young, global, accessible performers, Askmen.com dubbed him "Comedy's New Rock Star" and The Hollywood Reporter selected him as one of their "Ten Comics to Watch".

Sugar Sammy lives and embraces globalization, stirring up and sampling the multi-cultural melting pot that exists in most urban centres today. A smart and charismatic provocateur, he's a master at interacting with audiences in a style recalling the greats of traditional American stand-up. He presents hilarious scenarios and comments on our global society's inherent contradictions in a brilliantly entertaining way, presenting his views of his Indian roots and world travels.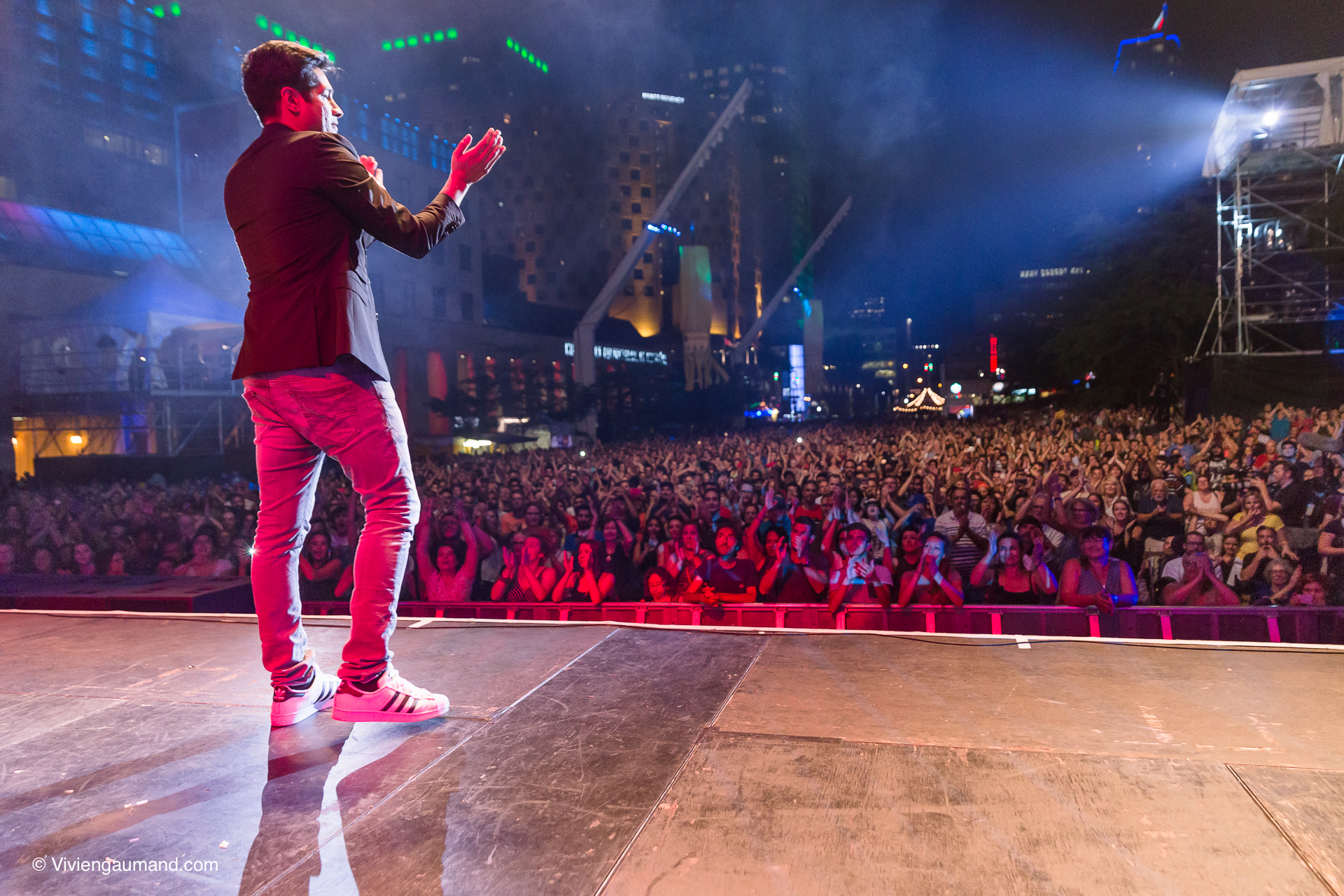 He's been invited to perform at Montreal's Just For Laughs Festival eight times. No stranger to the prestigious festival circuit, he's also performed at the Sydney, Cape Town, Johannesburg, Melbourne, Auckland, Halifax and Winnipeg festivals as well as the Grand Rire and ComediHa! festivals in Quebec City.
Speaking of festival appearances, his 421st, and last, performance of You're Gonna Rire in July 2016, drew a record-number of 115,000 fans to the outdoor show presented at Montreal's Place des festivals as part of the Just For Laughs/Juste pour rire festival.

His on-stage success has translated into a bestselling DVD, Sugar Sammy Live in Concert: Direct from Montreal, which was the number one selling comedy DVD on Amazon.ca for five straight weeks and continues to post impressive sales. The concert featured in the DVD, part of Air Canada's on-air entertainment program and featured on The Comedy Network, was the first special starring a Canadian stand-up on HBO Canada. Sugar Sammy has also had TV specials aired on Showtime Arabia, The Comedy Channel, CTV and Dutch TV network NTR. Meanwhile on the Web, his stand-up videos have had over 23 million views.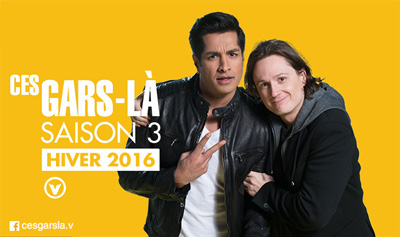 The next step for the comedian saw him branching out and conquering the small screen with Ces gars-là,a sitcom created, co-written and starring Sugar Sammy. This modern buddy comedy takes you into the world of two friends, whose intrinsic differences colour their friendship and create a variety of adventures for the odd couple, as the friends found themselves navigating absurd situations with more or less noble intentions. The series, which was broadcast in Canada from 2014 to 2016, was the first French-language TV series in Quebec to be as popular with Anglophone and ethnic viewers as it was with Francophones.

Sugar Sammy's global appeal did not stop there, and soon attracted major industry players wanting to partner with him. In 2014 Apple chose him to perform in their TV ads in French Canada and in 2015 he became the Montreal Canadiens' spokesperson in a series of internationally-broadcast ads intended to unite the hockey team's fans across the globe.

Having worked with some of the greats who have paved the way before him, such as Dave Chappelle, George Lopez and Damon Wayans, he's learned his lessons well. Next stop: global domination - one laugh at a time!
Subscribe to Sugarnation and join his mailing list for all the latest news and priority ticket access for upcoming shows.